| | |
| --- | --- |
| SOLIS Barista Perfetta Plus | . |
Available in Silver (brushed stainless steel) and Black (matte black) at Segafredo Zanetti Australia.
Integrated Manometer

Easily check and control the extraction pressure with the integrated manometer for a well-balanced cup of coffee. The perfect extraction pressure during brewing is between 8 and 12 bar.

Professional Steam Wand
The dual function of the Professional Steam Wand allows you to create the best latte art for your creamy cappuccino or a delicious long black. Froth silky-textured milk with the 360-degree rotatable steam wand or use the Hot Water function for other hot beverages such as tea and Americanos.
Energy Saving Mode
Select between 3 automatic stops and energy-saving mode to save energy. The SOLIS Barista Perfetta Plus switches to standby mode after 10 minutes and can be adjusted to 30 or even 120 minutes. After 20 minutes of Standby Mode, the machine automatically shuts down.
Coffee in 40 Seconds
The SOLIS Barista Perfetta Plus is a compact coffee machine that allows you to create barista-style coffee at home. In just 40 seconds, the machine generates the perfect, stable brewing temperature, enabling you to grab your morning coffee within one minute. It's the ideal coffee machine for those on the go.
PID temperature control
SOLIS Barista Perfetta Plus digital temperature control (PID) delivers water at precisely the right temperature, allowing the temperature to be dialled up or down to suit your tastes.
Low-Pressure Pre-Infusion
Freshly ground coffee is gently moistened first, at low pressure, to prepare it for an even extraction.
Additional Features
1.7-Litre Water Tank: The large tank holds up to 1.7 litres of water and can easily be removed from the back to re-fill water, replace the filter, or clean it.
Warming Tray: The SOLIS Barista Perfetta Plus is equipped with a cup-warming tray allowing you to enjoy your coffee at the right temperature for a longer time.
Configurable Coffee Machine: Get the most out of your coffee beans by choosing the quantity of coffee per cup and the brewing temperature. SOLIS Barista Perfetta Plus will memorise the settings until they are changed or reset.
Brita Intenza Water Filter: This machine includes a Brita Intenza water filter to reduce limescale and gypsum deposits, ensuring the optimal taste experience.
Italian-Style Espresso Pump: The Italian-style espresso pump operates with a pressure of 15 bar to enable the ideal extraction.
Notification for Maintenance: Reminds to change the water filter, descale and clean the brewing unit. (It also includes automatic cleaning programs.)
What's included in the SOLIS Barista Perfetta Plus box:

Stainless steel milk jug
Single-wall and double-wall filter inserts of 54 mm (to prepare one or two cups of coffee and use freshly-ground or pre-ground coffee)
Measuring spoon
Tamper
Filter for ESE pods
---
The Breville Smart Grinder™ Pro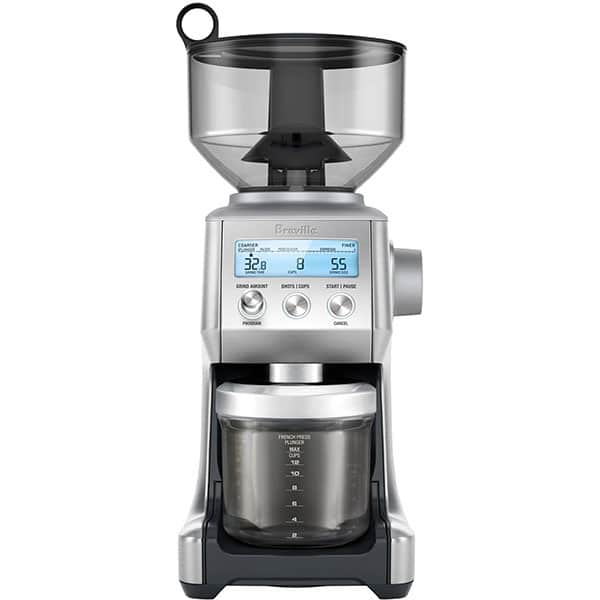 Grind intelligently with Dosing IQ technology
Automatically dose the same amount every time you grind.
The perfect coffee needs a precise amount of freshly ground beans. But adjustments in grind size require different grind times to achieve a consistent dose. Breville's conical burr Smart Grinder™ uses Dosing IQ technology to adjust the dose whenever you change the grind automatically.
Choose between 'cups' for French press or Filter, and 'shots' for espresso to get the correct dose for your coffee's needs. You can even tweak for taste. 
The Smart Grinder™ Pro features an LCD screen and a 450g removable hopper; includes two grinding cradles for directly dosing 50-54mm or 58mm commercial espresso filters. It also comes with an air-tight storage canister, suitable for plunger or filter coffee.
Upgrades include: 
NEW Set dose in 0.2-second increments 
NEW High precision burr calibration for more consistent grinding
NEW Dose pause function 
NEW Programmable Shot/ Cup Volumes
Features
LCD Screen:

 A clear and concise LCD screen shows grind setting, grind time and the number of shots or cups you have selected.

Pre-Programmed Settings

: Intelligent settings help your grinder achieve perfect results regardless of how fine or coarse you require your beans

60 Grind Settings

: With so many intuitive grind settings to choose from, you can create perfection from espresso to French Press.

Dosing IQ

: Precision Digital Time allows you to adjust and program grind time in 0.2-second increments giving you total control and a perfect dose every time.

450g Removable Hopper
What's included in the Breville Smart Grinder™ Pro box:
Portafilter cradle

Small 50-54mm portafilter cradle

Large 58mm grinds container (with lid and sealing cap)

Conical burr cleaning brush
The Breville Smart Grinder™ Pro is only sold in combination with the SOLIS Barista Perfetta Plus.