For those new to cold or rather, iced caffeinated beverages, you might be asking what's all the fuss? Iced coffee is the perfect treat on a hot summer's day, afternoon or evening … well, anytime really! You can enjoy café style iced coffee in the comfort of your home, while avoiding the pricey tab and mixed results.
Want to know how to make it?
Jump to the tutorial.
But before we dive in to how to make this fine coffee drink, let's delve into its origins, the different names floating around and general facts.
Origins
The origins, as is the case with a good number of beverages, isn't clear as there are various claims on its creation. Some lean towards iced coffee dating back to 17th century Vienna. Specifically, with the departure of the Turkish army leaving behind a massive surplus of coffee beans, and the local citizens experimenting with new brewing methods, all leading to iced coffee. Other sources connect its origins to the Algerian cold, sweetened coffee beverage, called Mazagran (circa 1840).
Plus, other document sources show the "iced coffee" (that is, coffee brewed then chilled with ice) had started to appear in menus and recipes in the late 19th century (with signs of a frozen coffee version earlier that same century).
Ok, so its origins aren't quite clear, but we can rightly claim that now – the Iced Coffee is very much part of the coffee beverage menu in cafés right across the globe.
Iced Coffee Variations
You may (or may not) be clearer on its origins, but did you know there are many different variations of iced coffee? Yes, that's right. There are versions of this drink covering most corners of the world from Australia and New Zealand to Thailand, up to Japan, across to Greece, Germany and Italy and over to Chile, Canada and US.
Global examples of iced coffee variants include:
Iced coffee with the inclusion of syrup, a scoop of ice cream, whipped cream, and finished off a dusting of cocoa powder and coffee beans (Australia)
Composed of espresso or coffee powder, ice cream is added plus the addition of either vanilla or cinnamon: Café helado (Chile)
Made from instant coffee, water (& sugar, if preferred), items are mixed using an electric mixer or hand shaker, which generates its lovely & renowned foam layer. Ice cubes are added, and milk if desired: – Frappe coffee (Greece). Also, the popular Freddo Cappuccino which uses a double shot of espresso, milk and sugar if desired.
Composed of brewing strong black coffee (or espresso), sugar, heavy cream and cardamom, which is quickly cooled and served with ice. It can be served with whipped cream with a dusting of cinnamon, vanilla or anise: Oliang (Thailand)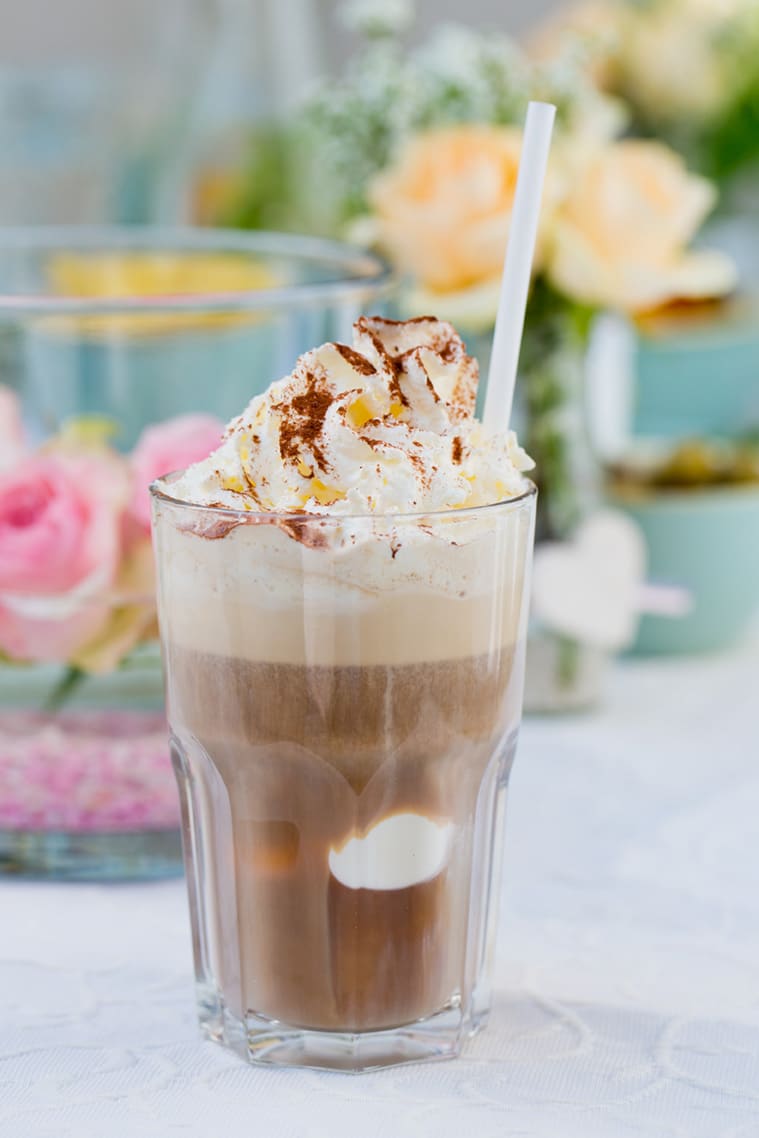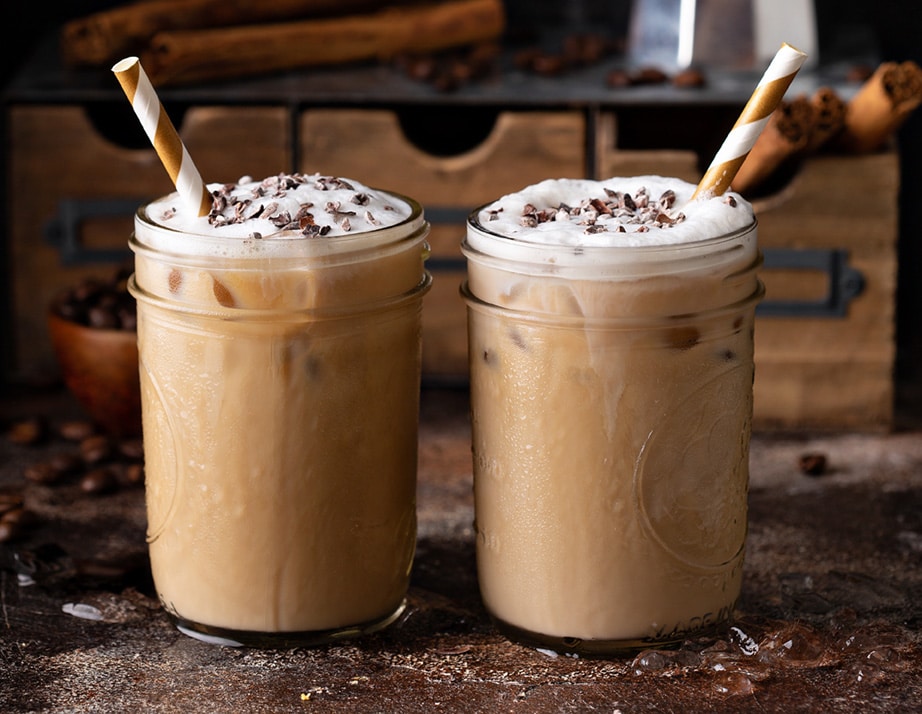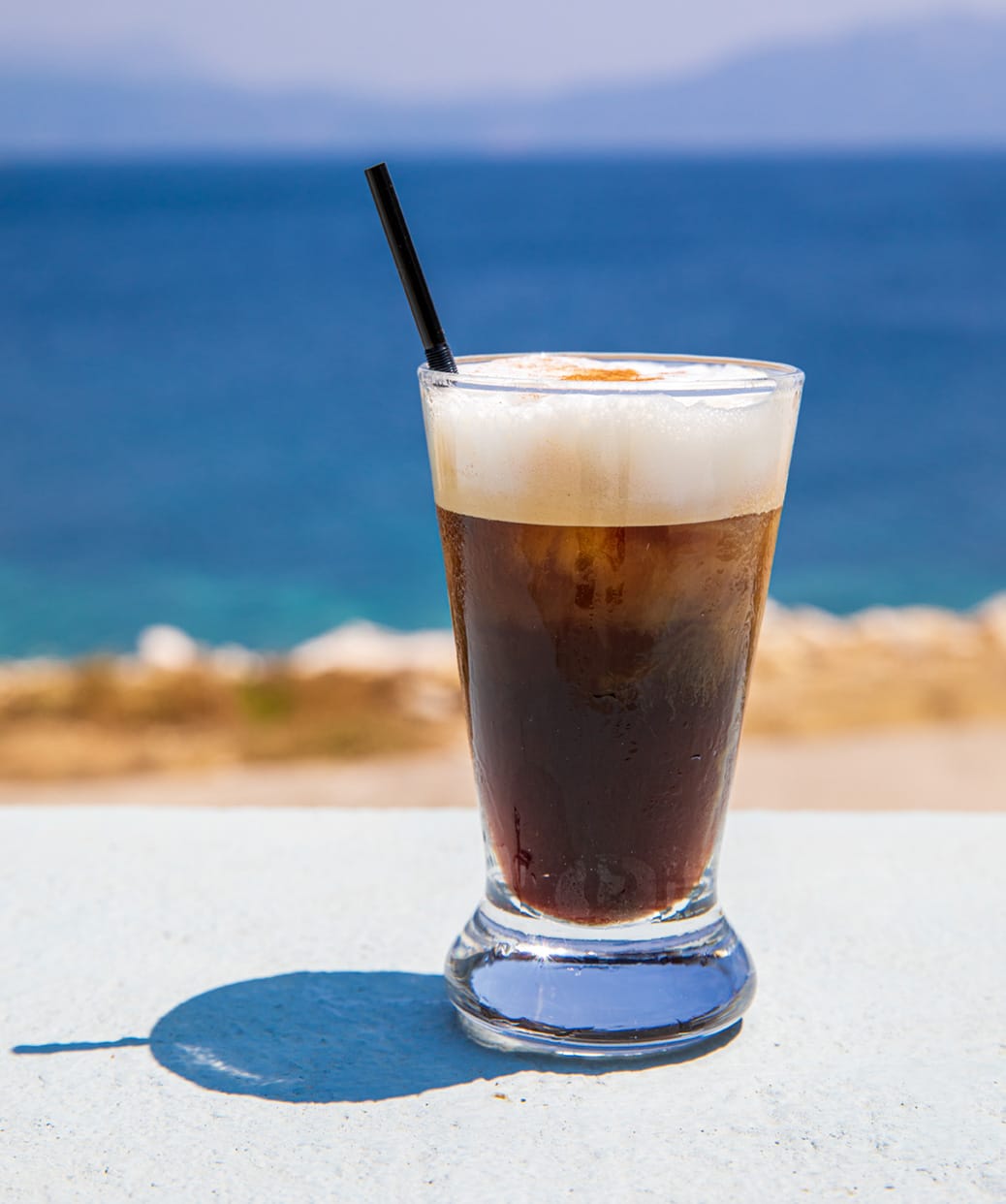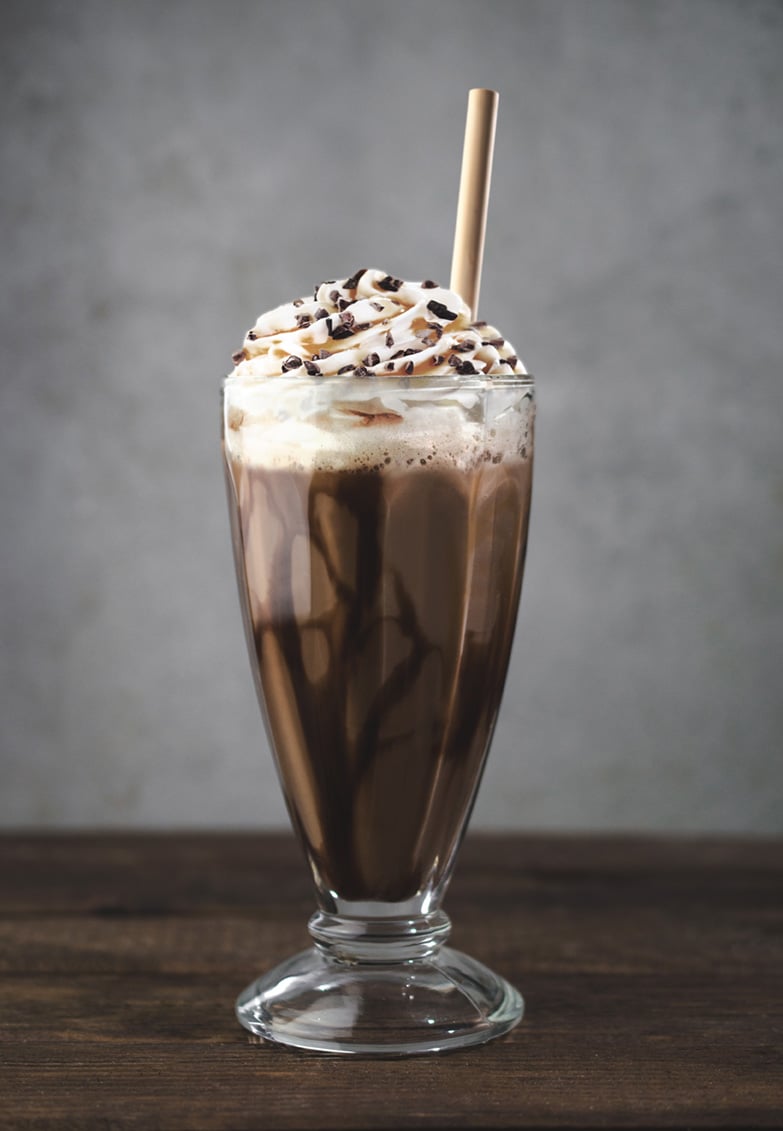 Iced Coffee – what is it?
Simply, it is a coffee beverage served cold, and can be prepared in two ways. Firstly, by brewing coffee normally and then serving it over ice or in cold milk, depending on your preference. Alternatively, hot brewing occurs, with the option of adding sweeteners and/or flavouring (which assists in its dissolving) before cooling begins.
How to make your Segafredo Iced Coffee?
Making your Iced Coffee in the comfort of your home, requires no special ingredients or skill for that matter. As by now you would have mastered how to make the best espresso (if not, check out the link). The process is easy and oh so rewarding!.
Did you know? Different types of iced coffee take much longer to brew, and this explains the café price tag plus the addition of milk, sweeteners, cream and ice cream depending on your geo-location!
Segafredo Coffee (beans of your choice)
Ice cubes
1 tsp sugar or sweetener of choice (optional)
Milk (optional)
ice cream
whipped cream
chocolate powder & few coffee beans
STEP 1: Brew a regular cup of coffee using Segafredo coffee (of course) – 2 espresso shots needed*
STEP 2: Fill glass with ice, add sugar** or preferred sweetener / syrup and milk (if preferred)
STEP 3: Pour brewed cup of coffee into glass with ice; stir to combine.

*to speed up the chilling process, put it into the freezer (for around ~ 15 minutes to achieve the perfect chilled temperature)
** you can add the sugar to the hot coffee before chilling it, or use syrup to avoid any crystallisation occurring.

Optional
For those who have a sweet-ish tooth, add scoop of vanilla ice cream, whipped cream & dusting of chocolate powder for your traditional Australian iced coffee.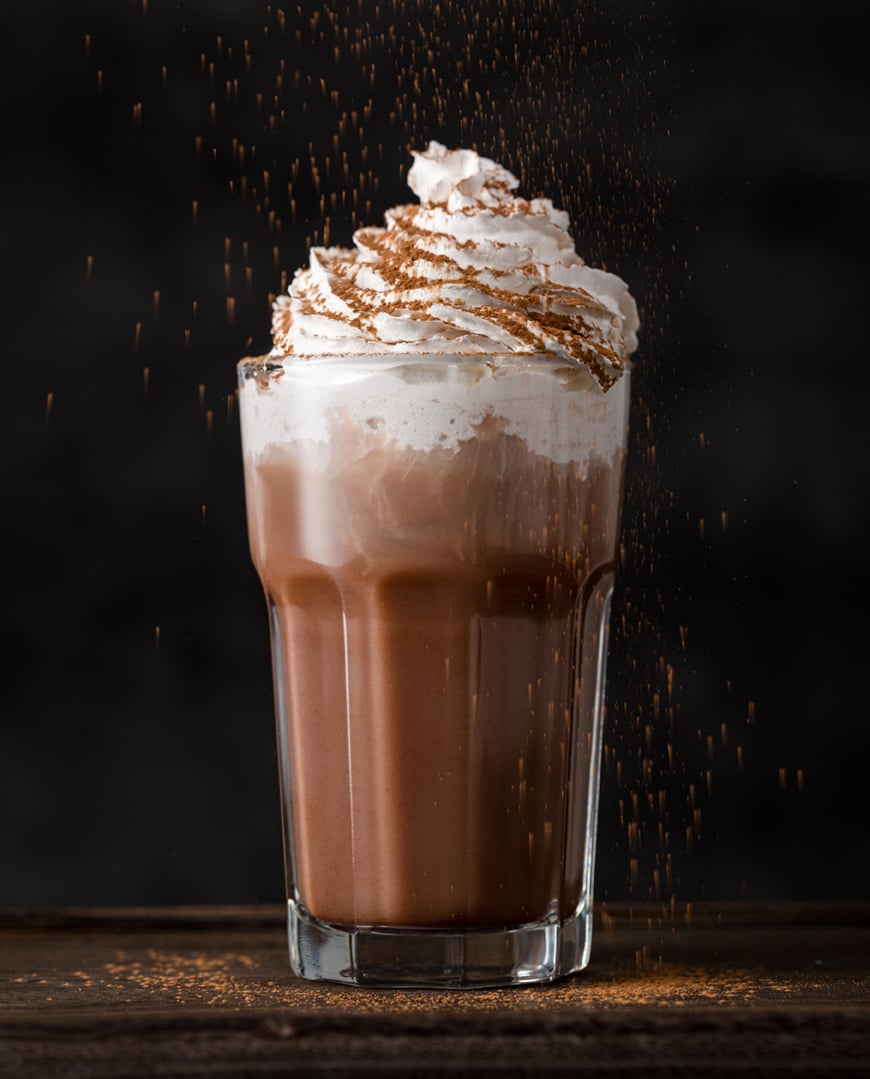 Other Alternatives
Iced Latte:
2 espresso coffee shots
Ice cubes
Top it up with milk
Iced Long Black:
2 espresso coffee shots
Ice cubes
Top it up with cold water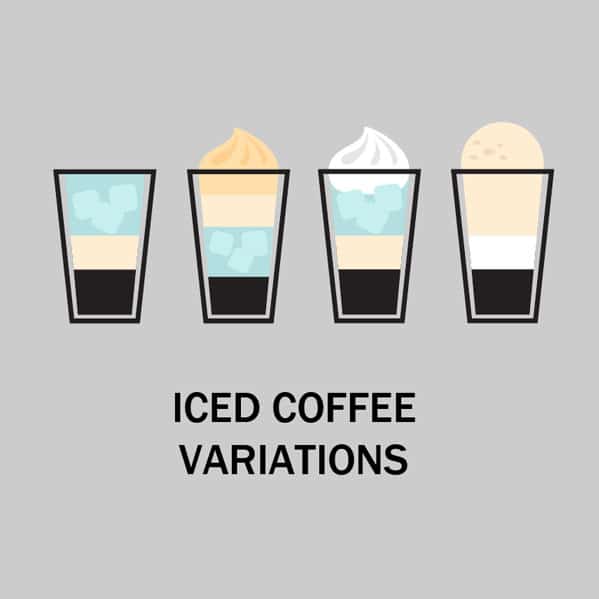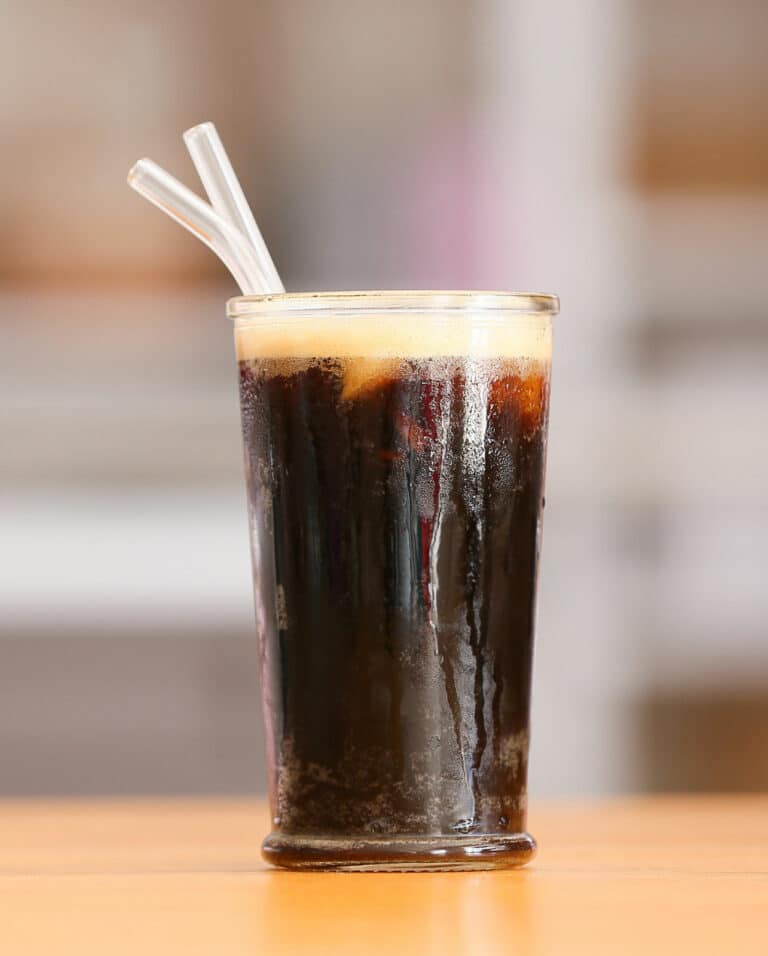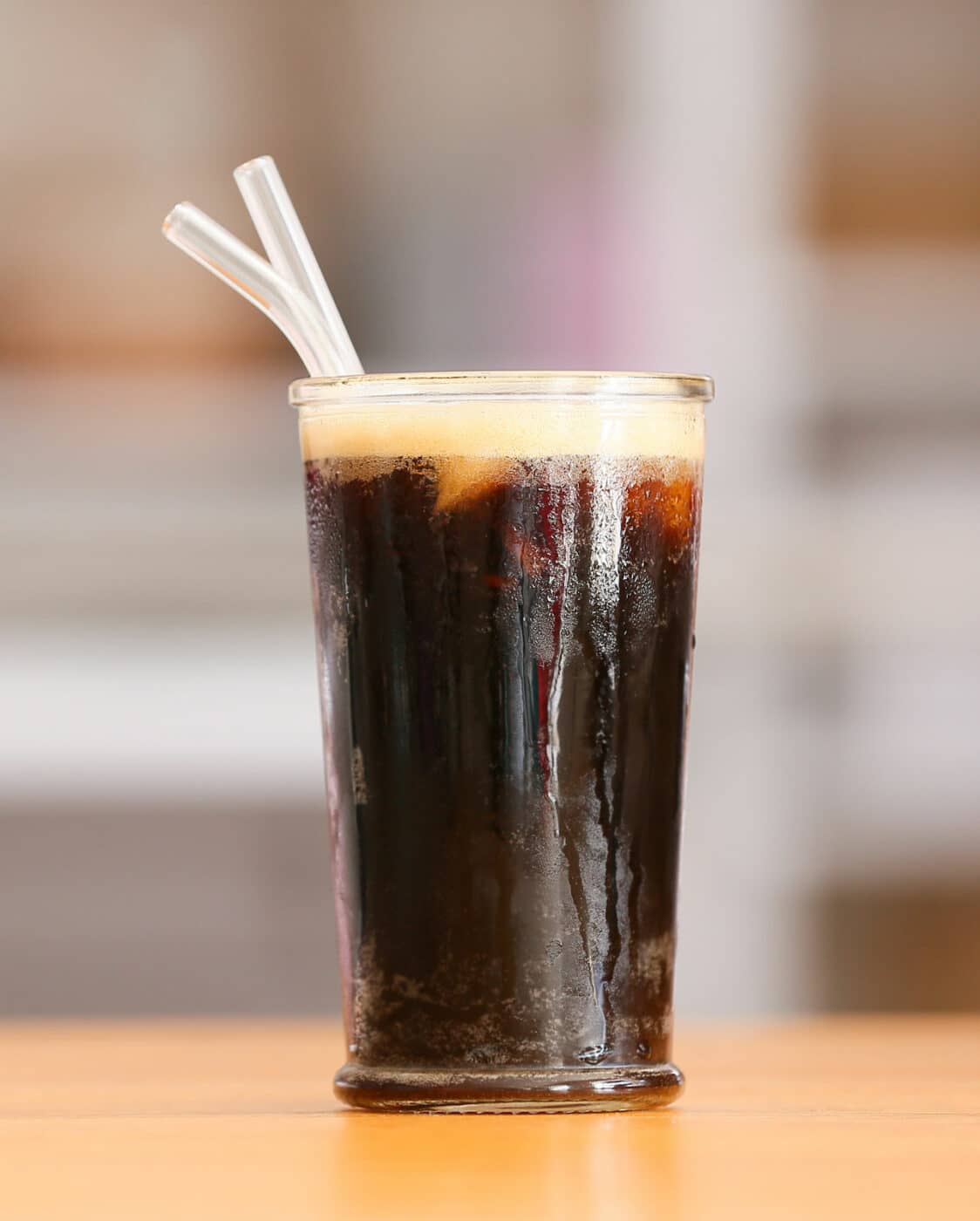 Iced coffee: Now part of your morning routine.
Handy Tip: Brew your cup of coffee the night before and place it in the fridge. Easy peasy, nice and ready for your morning iced coffee preparations.
Looking for some Iced Coffee Variations?
Whether you end up drinking your iced coffee plain (no milk and sugar), or with milk and sugar only, you can go on to experiment with adding other flavours – and share this experience with friends and family.

Here are some ideas:
Syrup – for a café-style treat, add a dash of flavoured syrup into your iced coffee.  
A touch of Spices.  Sprinkle a little spice (like cinnamon, vanilla, anise, nutmeg, cardamom) into your brewed coffee
Taking it up a notch.  Consider adding your favourite spirit or liqueur such as a dash of rum, whiskey, brandy, Frangelico, Sambuca, or [insert drumroll] coffee liquor made with Mr. Barista coffee liquor made with Segafredo cold brew.
We hope you enjoy experimenting and experiencing this much loved global coffee beverage. Don't forget to share your coffee pictures with us on Instagram @segafredo_zanetti